Learning to live life in all its fullness
A warm welcome to you from everyone at Woodbury Primary School. We are a thriving and friendly Church of England Primary School located in the village of Woodbury, Devon. We have 7 classes from Reception to Year 6 (4–11-year-olds). All children in each class are in the same age range.
We aim to inspire and enable children to become independent, resilient, and joyful lifelong learners. Our values and aims are built firmly on Christian beliefs and principles, and these are evident in all we do. Our Mission Statement is 'Learning to live life in all its fullness' and is derived from The Gospel of John, 10:10. It means that we all aim to live all aspects of our lives to the best we can in terms of using our wisdom, skills, and knowledge.
Our enriched curriculum ensures that children develop a love of learning and an independence that encourages the nurturing of their ideas and imagination.
We are ambitious for all our children, where we put an equal emphasis on high academic achievement alongside personal and social development. We have an ethos where children's voices are heard, and they are encouraged to develop important personal skills and ability to work with others.
Our wish is for every child to achieve their very best and enjoy their time at the school.
Our school website is designed to give you a flavour of the many wonderful things that go on in our flourishing school
Please feel free to book an appointment and visit us.
Gillian Pyle - Head of School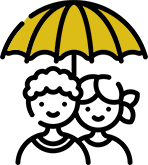 Safeguarding Statement
This school is committed to safeguarding and promoting the welfare of children and expects all staff and volunteers to share this commitment.
Love
Endurance
thankfulness
Wisdom
Respect
Generosity